Hi, I'm new to the board but I felt obliged to join and post what worked for me as my chrons is now in remission and I am on the road to recovery.
This disease is brutally awful and if this can help just one more person then this post will be completely worth it.
I'll cut straight to the point, I healed chrons without medication, I used a strict paleolithic-ketogenic diet that was administered and monitored by PaleoMedicina, a treatment clinic based in Hungary. I didn't have to visit Hungary or anything, I simply did everything over zoom calls on the internet. I monitored my ketones, blood sugar and blood pressure using a variety of devices and got blood tests done by my local doctor once a month before sending the results over to them for monitoring.
They adjusted the diet slightly sometimes dependent on my progress and bloodwork etc. but in short the diet is incredibly restrictive for about 1 year. You eat nothing but high quality (100% grass fed organically sourced) meat from 4 legged animals and organ meats. At the moment I live off beef steak and beef liver and that's it.
I know it sounds crazy but you can live off that, I've been doing it for the past 7 months. For the past month I've been in complete remission, my stools are back to normal, my symptoms are next to nothing. I still get a little bit of gas but I'm sure that will go in time. I can't believe how doing this with no awful side effects from the medication has worked so well.
After approx. 12 months I will begin introducing foods back into my diet with their help and this time next year I will have a varied and sustainable diet to live from. I've spoken to some of their other patients who are 3 years into this and they are now in a position where they just avoid certain foods but other than that are completely fine to do as they please.
They have a bunch of literature on their website about how this treatment is clinically proven, I did a lot of research before starting it, but I can confirm it works. I can't believe it but it really does.
If you have any questions please feel free to ask, I will respond.
I hope this helps somebody else.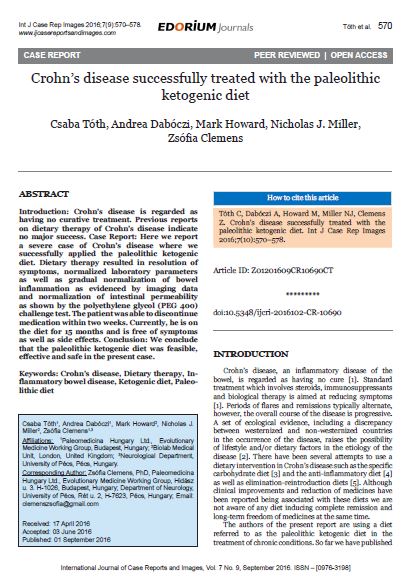 Csaba Tóth, Andrea Dabóczi, Mark Howard, Nicholas J. Miller, Zsófia Clemens Crohn's disease successfully treated with the paleolithic ketogenic diet ABSTRACT Introduction: Crohn's disease is regarded as having
Last edited: